Sub: Top 10 Best Dog Shampoos (Wahl, Honeydew, NuLife, Bexley Labs)
If you're like most people we know, the most pampered member of your family is your dog. You want to get the best kibbles, the best pooper scooper, and–last but not least–the best dog shampoo. A great shampoo will help keep your dog's skin and coat healthy and soft but might also alleviate skin conditions such as dandruff and itching. But given the wide range of dog shampoos offered online today, how do you really know what is best?
Have you ever heard of Fieldworks Supply Company's Moosh Dog Shampoo? It's formulated with aloe vera and bentonite clay to soothe irritated skin and soften your dog's fur. Besides this product, there are many others on our list that are highly recommended by reviewers thanks to their gentle formula and effective conditioning ingredients. To know what they are, read on!
Now, let's look at 10 of our favorite dog shampoos. We've picked them based on their shampoo type, ingredients, as well as reviewer satisfaction. So sit down next to your pup, glance through the rest of the article one last time, and get choosing.
1/ Fieldworks Supply Company –

Moosh Dog Shampoo

$14.49
| | |
| --- | --- |
| Amount | 12 oz. |
| Formulated with | Aloe vera, shea butter, argan oil, bentonite clay |
| Type | Natural, general-purpose shampoo |
| Puppy safe | Yes |
2/ Top Performance –

Fresh Pet Shampoo

$9.99
| | |
| --- | --- |
| Amount | 17 oz. |
| Formulated with | Natural surfactants from coconut oil, sea salts, citric acid, essential oil fragrances |
| Type | Natural, general-purpose shampoo |
| Puppy safe | Yes |
3/ NuLife Natural Pet Health –

Aloe & Oatmeal Soap-Free Shampoo

$14.95
| | |
| --- | --- |
| Amount | 16 oz. |
| Formulated with | Aloe vera, oatmeal extract, glycerin, cucumber essence, ripe melon extract |
| Type | Natural, general-purpose shampoo |
| Puppy safe | Yes |
4/ Bexley Labs –

Curaseb Chlorhexidien Medicated Shampoo

$56.01
| | |
| --- | --- |
| Amount | 8 oz. |
| Formulated with | Chlorhexidine gluconate 2%, ketoconazole 1% |
| Type | Medicated shampoo |
| Puppy safe | Not specified |
5/ Eqyss Grooming Products –

Micro-Tek Pet Shampoo

$15.99
| | |
| --- | --- |
| Amount | 16 oz. |
| Formulated with | Thyme extract, lavender extract, aloe vera, clove extract |
| Type | Natural, general-purpose shampoo |
| Puppy safe | Yes |
6/ Earthbath –

Oatmeal & Aloe Shampoo

$16.55
| | |
| --- | --- |
| Amount | 16 oz. |
| Formulated with | Oatmeal, aloe vera |
| Type | Natural, general-purpose shampoo |
| Puppy safe | Yes |
7/ Wahl –

Four in One Shampoo and Conditioner Concentrate

$6.99
| | |
| --- | --- |
| Amount | 24 oz. |
| Formulated with | Chamomile extract, glycerin, sodium aurenth sulfate |
| Type | Natural, general-purpose shampoo |
| Puppy safe | Yes |
8/ Honeydew

Lavender Oatmeal Pet Shampoo

$9.45
| | |
| --- | --- |
| Amount | 8 oz. |
| Formulated with | Lavender oil, oatmeal, jojoba oil, glycerin |
| Type | Natural, general-purpose shampoo |
| Puppy safe | Yes |
9/ Paw Choice –

Foaming Mousse Dog Shampoo

$14.87
| | |
| --- | --- |
| Amount | 8 oz. |
| Formulated with | Coconut, polysorbate 20, fragrance, preservatives |
| Type | Dry shampoo |
| Puppy safe | Yes |
10/ Buddy Biscuits –

Buddy Wash Two in One Shampoo and Conditioner

$13.90
| | |
| --- | --- |
| Amount | 16 oz. |
| Formulated with | Aloe vera, rosemary extract, mint extract, chamomile extract, vitamin E |
| Type | Natural, general-purpose shampoo |
| Puppy safe | Yes |
How to Choose a Dog Shampoo – Buying Guide
So, what makes a good dog shampoo? Well, it depends on your dog – how big they are, how much fur they have, and what habits they have.
Pick a Shampoo That Meets Your Dog's Specific Needs
The first step is to think about what you want your dog shampoo to do for dog. Do you want to eradicate as many fleas as possible or simply keep your dog's fur looking healthy and groomed? In this section, we'll talk about some common types of shampoo that will help you target you dog's specific needs.
General Purpose Shampoo for the Healthy, Carefree Dog
General-purpose shampoos get rid of dirt, wash away odor, and add a gleam to your dog's coat. Compared to other kinds of shampoo, they are pretty affordable. But–don't forget–they're made for pups that have healthy skin. If your dog has a condition, steer clear.
Also, many products are formulated with conditioning ingredients to keep your dog's fur soft and knot-free. So consider them if your dog has particularly thick or dry fur.
Go for a Natural Shampoo if Your Dog's Skin is Itchy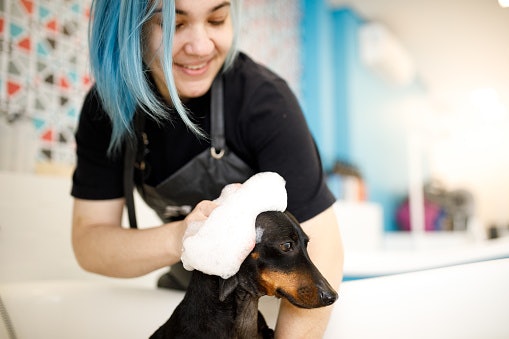 Just like the name says: natural shampoos veer away from any chemical ingredients that could irritate your dog's skin such as parabens, sodium lauryl sulfate (SLS), and artificial fragrances. Instead, they take advantage of nature's bounty.
They're sweet and cool on irritated skin but won't go after bacteria as aggressively as medicated shampoo. So if your pup has an infection or skin disease, they might actually aggravate the situation.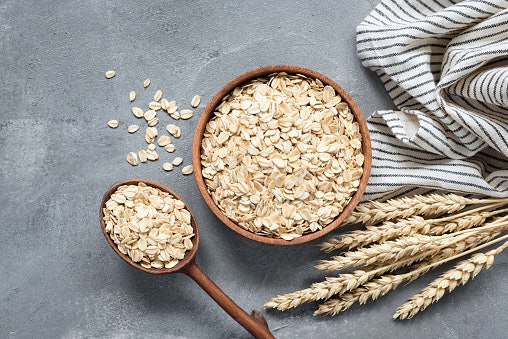 Most natural shampoos harvest the power of oatmeal. It's nutritious and can soothe itching as well as relieve allergy symptoms. So opt for a natural formula infused with this ingredient if your dog struggles with itching and scratching.
But keep in mind that oatmeal is technically a grain. So if your dog is allergic to grain, oatmeal can actually trigger allergic reactions.
Aloe vera is another ingredient that can do wonders for your dog's skin! Renowned for its healing and moisturizing properties, it can alleviate itching while keeping your dog's coat healthy and shiny.
Medicated Shampoo Should Only be Used on Veterinary Advice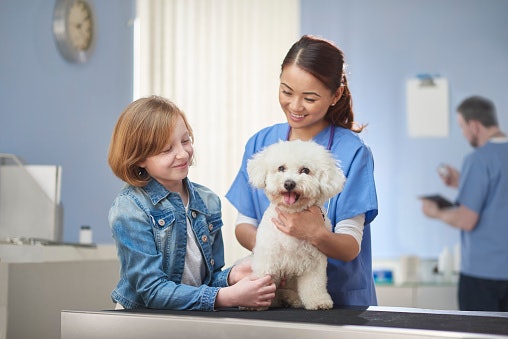 Medicated shampoo is composed mostly of medicinal ingredients and is often used to treat a specific skin condition of your pup. Some products are antiparasitic and designed to battle pesky fleas and ticks, while some are antibacterial to help sterilize greasy-skinned dogs.
So, if you decide to get a medicated shampoo, read the bottle and see if the formula targets the exact condition your pup has. However, the medicinal ingredients might be quite harsh for your dog's skin, so you should use medicated shampoo sparingly. After your dog's skin condition has improved, switch over to a regular shampoo.
Also, before purchasing a medicated shampoo, consult with your vet to make sure that it's truly suitable for your pup. Remember that customer reviews are your best friend as well. Don't get anything that fellow dog lovers say is irritating or aggravating.
Antibacterial Shampoo Prevents Skin Diseases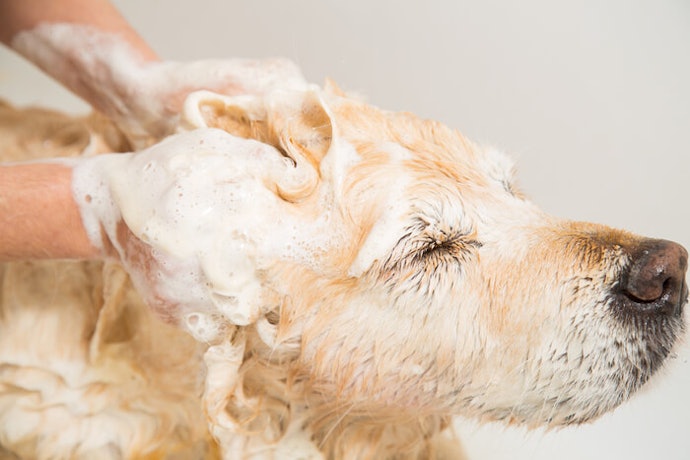 Antibacterial shampoo is sterilizing and can directly eliminate bacteria that, if left to roam free, could smell and cause skin disease. However, since it has a very strong and concentrated formula, you shouldn't use it too much or too often.
Make sure to read the instructions thoroughly and follow them. You should also consult with a vet or dog groomer before using one.
Dry Shampoo for Senior Dogs and Pups Who Hate Water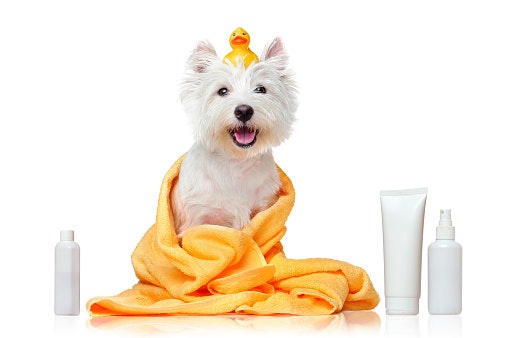 Dry shampoo will clean your dog, with no water necessary. It's pretty helpful for pups that hate water or canines recovering from surgery.
The ingredients are non-toxic and won't hurt your dog, even if he licks himself a lot. And since it stays in your dog's coat, dry shampoo is usually free of harmful chemicals and surfactants. Use a bottle for a quick touch-up in between more serious washings.
Choose the Right Shampoo for Your Dog's Skin Type
Depending on the breed and other factors such as where they live or spend most of their time, the skin of your dog could be either oily or dry. So, make sure to pick a shampoo that is suitable for her skin.
Choose a Hydrating Shampoo for Dogs With Dry Skin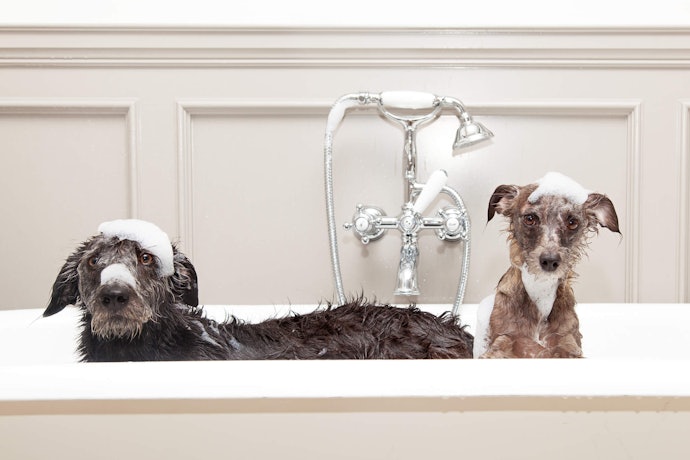 Air conditioning and heaters can take out a lot of moisture from the air. So your dog is likely to have dry skin if exposed to indoor heating systems all the time. Also, during the cold winter months with low humidity, your dog's skin tends to become drier.
There are many other causes behind dry skin, including allergies, a poor diet, and excessive bathing. To know if your dog has dry skin or not, simply run your finger through your dog's coat. If your fingertips pick up dandruff, or if their fur feels rough and dry, then you should get a shampoo that is meant to hydrate dry skin.
Hydrating shampoos are often crafted with nourishing plant-based butter and oils such as shea butter, jojoba oil, olive oil, and argan oil can do wonders in softening and keeping your dog's coat and skin moisturized as well.
For Dogs With Oily Skin, Look for Noncomedogenic Ingredients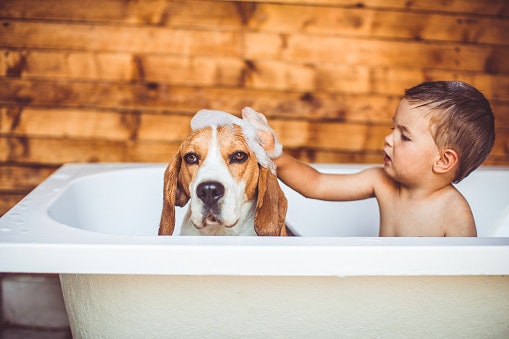 On the other hand, larger breeds–like Labradors, German Shepherds, Golden Retrievers, and Rottweilers–secrete more oil. Hounds and other large canines were often bred for hunting, rescues, and dashes through the icy tundra, so they need the oil to protect them from dirt, rain, and snow.
But if your dog isn't going to be fording any rivers, then the excess oil won't just smell. It will actually cause outbreaks. Mitigate this with shampoo meant to calm and treat oily skin.
Also, avoid comedogenic ingredients like mineral oil and almond oil. They are ultra-moisturizing but might leave your dog's oily skin feeling even greasier. Instead, choose lightweight moisturizers like aloe vera.
Opt for a pH-Balanced Formula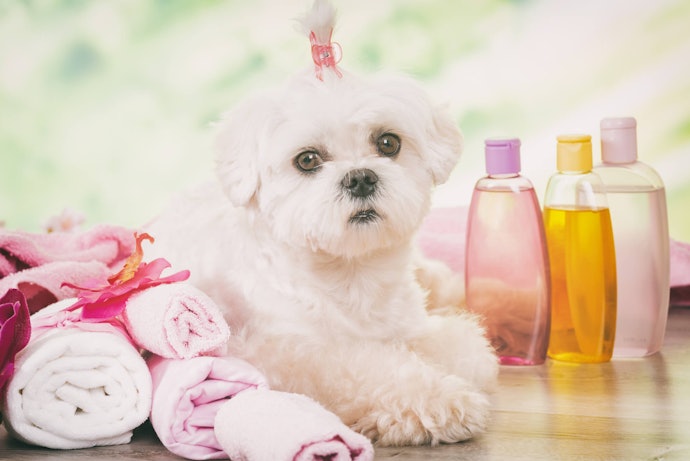 Generally speaking, your dog's skin is more alkaline than yours. While slightly acidic skin forms this protective mantle to keep out toxins and bacteria, alkaline skin is left vulnerable. In fact, it's sensitive and prone to dryness and inflammation. So make sure your dog shampoo is pH balanced!
A pH-balanced formula won't strip your dog's coat and skin of the natural oil and is less likely to irritate your dog. The imbalance in pH levels might create a breeding ground for bacteria and viruses as well. So by using a pH-balanced shampoo, you can help your dog maintain good health and prevent future diseases.
Make Sure the Shampoo is Puppy-Safe for Little Ones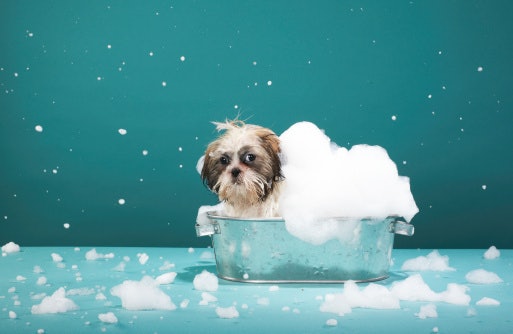 Compared to adult dogs, puppies have more delicate and sensitive skin and require a gentler shampoo. Medicated and antibacterial shampoos are usually not recommended for puppies since they have a strong formula that might actually cause skin irritation.
If you're worried about any kind of skin issues that your puppy might have, we suggest consulting a vet before purchasing a medicated or antibacterial product. Generally, you should go for a shampoo labeled as "puppy-safe" since it's formulated specifically with puppies in mind.
There are some products that might work for both puppies and adult dogs. But make sure that your puppy fits into the age range stated on the bottle.
Get a Bottle You Can Finish in Half a Year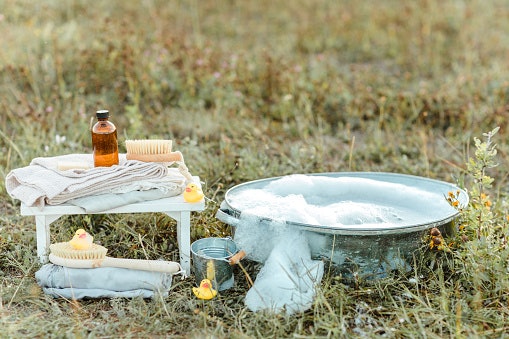 The market is inundated with dog shampoos, so it was only a matter of time before huge, gallon-sized "economical" bottles started showing up. But we don't recommend going for Costco packs.
Get something you can use up in half a year. Shampoos expire, just like anything else, and after six months, your medicated and antibacterial shampoos just aren't going to be the same. And you probably don't wash your dog every day, either. Keep that in mind before lugging a huge thing of shampoo all the way home, too.
Tips for Shampooing a Dog at Home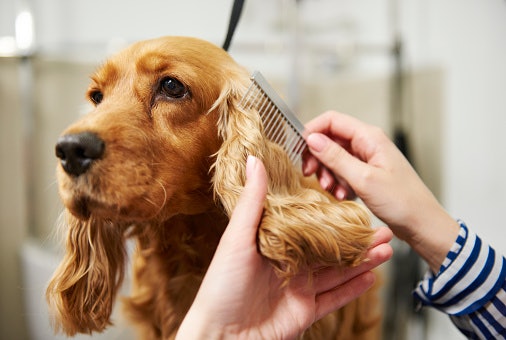 You may have picked out the best dog shampoo, but your job isn't over just yet! Now, we'll go over how to actually wash your dog. You can have the best shampoo in the world, but if you don't wash your dog right, it's not going to produce miracles.
Step one, brush your dog before throwing them into the tub. Work through their tangles, pick out leaves and twigs, and dislodge chunks of dirt first, and the shampooing will go much smoother. Then, run lukewarm water over your dog until the coat is saturated.
After you've rinsed your dog off, put a dollop of shampoo in your hands and work up a lather. Start from the tail. Give them a good rubbing, so you're washing the gunk from their fur and skin. Once your dog is covered in suds, rinse them off, starting from the head. Make sure there is no soap or water dripping into their eyes or ears.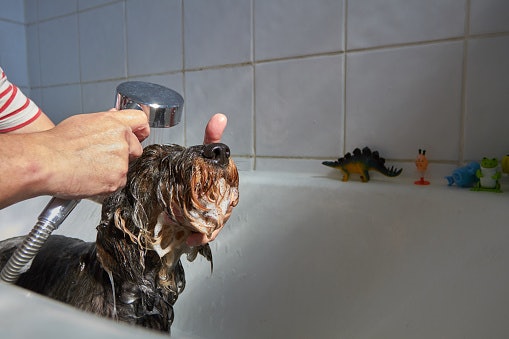 After you've turned off the faucet, give them a once over to make sure there is no residue. Left-over suds could irritate their skin and cause all sorts of diseases, so rinse everything from your dog's coat.
Now, you've got to dry your dog off. Get out as much water as you can with a towel, and finish off with a blow dryer. Some of our furry friends hate dryers but remember: if you leave them damp, there is a chance all sorts of microorganisms will start breeding.
Just make sure the nozzle is always a few inches away, and the dryer is constantly in motion, so you don't burn your pup.

Some Grooming Essentials to Keep Your Dog Looking Pup-Fect
Source: https://my-best.net/1228