Sub: Top 10 Best Cat Shampoos (Burt's Bees, Earthbath, Pro Pet Works,…)
A good shampoo will nourish and keep your cat's skin and coat soft, moisturize, and healthy. Some shampoos are even formulated with active ingredients to soothe certain skin conditions such as itching and dandruff. However, given the plethora of products available online today, it's tough to know which shampoo is the best for your cat.
To give you some options, we've combed through the Internet and found the 10 cat shampoos that are loved by reviewers. Our best pick was Pro Pet Works' Oatmeal Pet Wash Shampoo + Conditioner. It contains many nourishing ingredients such as aloe vera, vitamin E, and almond oil to keep your cat's coat and skin healthy. If you need some tips and tricks in choosing a cat shampoo, check out our buying guide at the end as well!
Take a look at our list of the 10 best cat shampoos! Keep in mind that some formulas, despite containing soothing ingredients, might be irritating to the sensitive skin of your cat. We highly recommend consulting your vet before making a purchase.
1/ Pro Pet Works –

Oatmeal Pet Wash Shampoo + Conditioner

$14.29
| | |
| --- | --- |
| Amount | 17 oz. |
| Kitten-safe | Not provided |
| Formulated with | Coconut-based surfactants, aloe vera, almond oil, oat proteins, vitamins A, D, E |
2/ John Paul Pet –

Oatmeal Shampoo

$7.56
| | |
| --- | --- |
| Amount | 16 oz. |
| Kitten-safe | Not provided |
| Formulated with | Oatmeal, aloe vera, sweet almond oil |
3/ Earthbath –

2-in-1 Conditioning Cat Shampoo

$14.99
| | |
| --- | --- |
| Amount | 16 oz. |
| Kitten-safe | Yes for kittens over 6 wks. |
| Formulated with | Coconut-based cleanser, aloe vera, olive oil squalane |
4/ Bayer Animal Health –

HyLyt Shampoo

$11.99
| | |
| --- | --- |
| Amount | 16 oz. |
| Kitten-safe | Not provided |
| Formulated with | Glycerin, hydrolized collagen, safflower oil |
5/ Burt's Bees –

Hypoallergenic Shampoo

$11.54
| | |
| --- | --- |
| Amount | 10 oz. |
| Kitten-safe | Yes |
| Formulated with | Shea butter, honey |
6/ Adams –

Flea & Tick Shampoo

$10.59
| | |
| --- | --- |
| Amount | 12 oz. |
| Kitten-safe | Yes for kittens over 12 wks. |
| Formulated with | Pyrethrins, piperonyl butoxide, pyriproxyfen, lanolin, aloe vera, oatmeal |
7/ Four Paws –

Magic Coat Gentle Tearless

$9.59
| | |
| --- | --- |
| Amount | 12 oz. |
| Kitten-safe | Yes |
| Formulated with | Aloe vera, lanolin, keratin |
8/ Veterinary Formula Clinical Care –

Antiseptic & Antifungal Medicated Shampoo

$8.58
| | |
| --- | --- |
| Amount | 16 oz. |
| Kitten-safe | Not provided |
| Formulated with | Benzethonium chloride, ketoconazole |
9/ Vet's Best –

Flea & Tick Shampoo for Cats

$9.00

| | |
| --- | --- |
| Amount | 12 oz. |
| Kitten-safe | Yes |
| Formulated with | Clove oil, cotton seed oil |
10/ Shampoo –

Advantage Shampoo

$17.99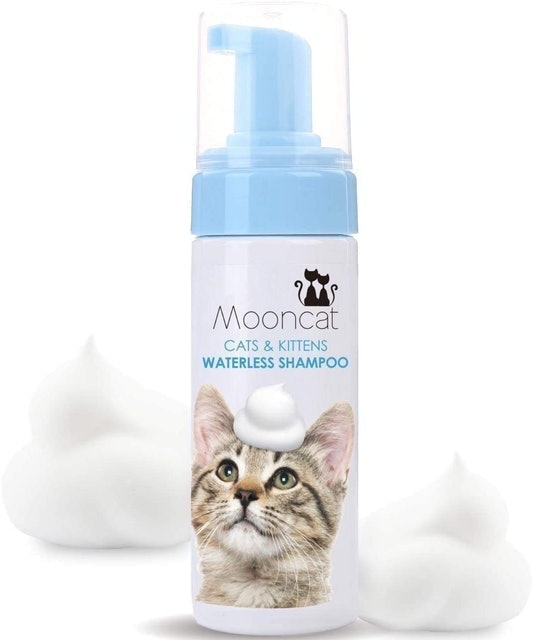 | | |
| --- | --- |
| Amount | 8 oz. |
| Kitten-safe | Yes |
| Formulated with | Sodium cocoyl alaninate, laureth-7 citrate, capramidopropyl betaine |
How to Choose a Cat Shampoo – Buying Guide
To choose a cat shampoo, make sure to consider the condition of your cat's skin. Some cats with certain skin conditions might need medicated shampoos, while cats with dry skin might need shampoos infused with moisturizing ingredients.
Choose a Shampoo Based on Your Cat's Condition
To choose a shampoo that works well for your cat, you should think about their skin and fur. For example, if your cat has sensitive skin, we recommend avoiding a formula with potential irritants.
A Moisturizing Formula is Great for Cats With Dry Skin
Dry weather and nutritional deficiencies can dry out your cat's coat and lead to flaky skin, dandruff, and itching. Those skin issues can make your cats feel uncomfortable. They may lick and scratch their coat excessively for some relief, thus leading to skin infections.
To prevent and treat dryness, choose a shampoo with moisturizing ingredients, such as oatmeal, aloe vera, and shea butter. Dryness will also make the coat of your cat dull. So look for ingredients like honey and keratin to add healthy luster to their coat.
To alleviate itching, consider ingredients such as lavender oil, chamomile flower extract, and oatmeal. Although these ingredients are toxic to cats in plant form if eaten, they're diluted enough in oil form that they're not considered harmful.
For Cats With Sensitive Skin, Avoid Potential Irritants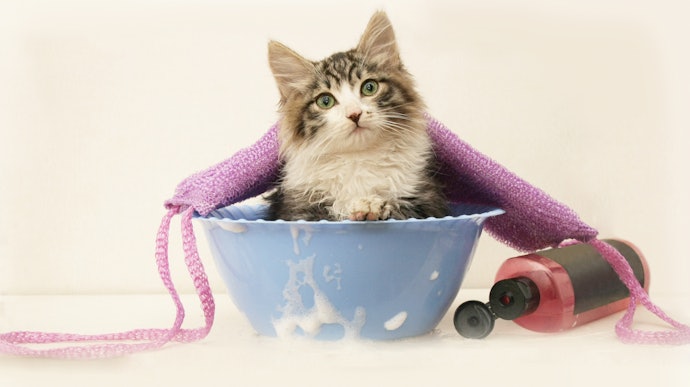 If your cat has sensitive skin, choose a formula that's free from potentially irritating ingredients, such as soaps, sulfates, and alcohols. Alcohol can dry out your cat's coat and lead to itching. Sulfates like sodium lauryl sulfate or ammonium lauryl sulfate are great cleansing agents but might cause skin irritation.
Soaps offer a good clean, but they might strip their coat and skin of their natural moisture, leading to excessive dryness. Shampoos without certain soaps might not lather as well, but they are still effective!
You may think that a natural formula is safe for cats, but cats are allergic to many natural ingredients. According to the Canadian Veterinary Medicine Association, essential oils such as tea tree, clove, bergamot, and thyme might be toxic to cats. So be wary of these ingredients when choosing a natural shampoo. You should consult with your vet when in doubt!
A Medicated Formula Targets a Specific Skin Issue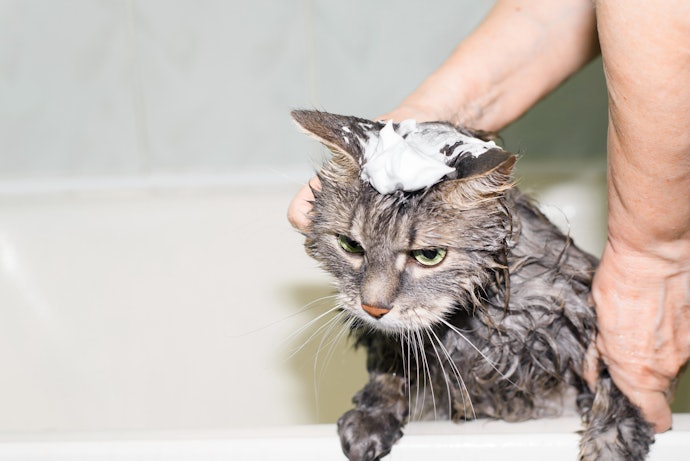 If your cat has a yeast infection, bacterial infection, or skin allergies, they might need a medicated shampoo with active ingredients that target those issues. Some medicated shampoos contain antibacterial ingredients to alleviate bacterial skin infections, such as pyoderma.
To alleviate fungal infections like yeast and ringworm, go for an antifungal shampoo with ingredients like chlorhexidine and ketoconazole. Some shampoos will help combat fleas and ticks, too! To ensure that a medicated shampoo is designed specifically for your cat's condition, read the product's description carefully.
Keep in mind that the active ingredients formulated in a medicated shampoo might be too strong for your cat. Be sure to use it sparingly! Check with your vet before purchasing to see if the shampoo can truly help with your cat's condition, too.
For Cats Who Hate Water, Opt for a Dry Shampoo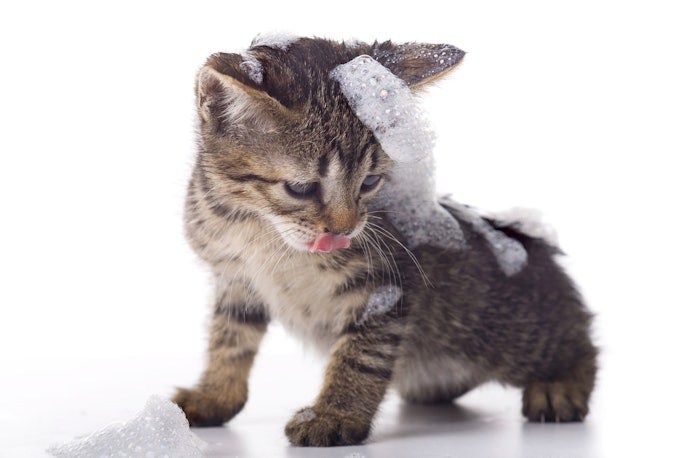 Dry shampoo, or waterless shampoo, offers an easy and convenient way of cleansing senior cats or those afraid of water. This type of shampoo doesn't need to be rinsed with water. If you're traveling with your cat, waterless shampoo can also be helpful.
Most dry shampoos for cats come in the form of foam. Simply massage the foam directly into your cat's coat from head to paw.
For Hairless Breeds, Make Sure the Shampoo isn't Drying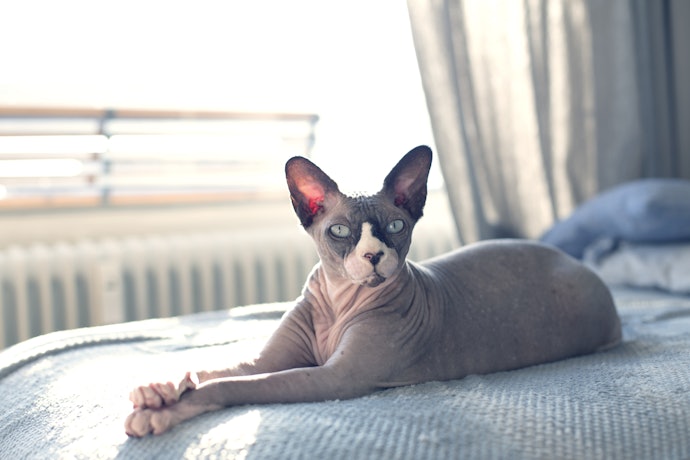 Cat's fur helps keep oil and dirt away from the skin. Since hairless breeds have no hair, dirt and oil are likely to build up, causing your cat's skin to get dirty and oily easily. So, to keep your hairless cat healthy and hygienic, you need to wash them regularly.
Choose a shampoo that doesn't contain potentially harsh ingredients, like alcohols and sulfates, that may strip the natural oils away from your hairless cat's delicate skin. Shampoos infused with coconut-based surfactants might be a good choice, as they can gently cleanse their skin of daily grime without drying it out.
Consider a pH-Balanced Formula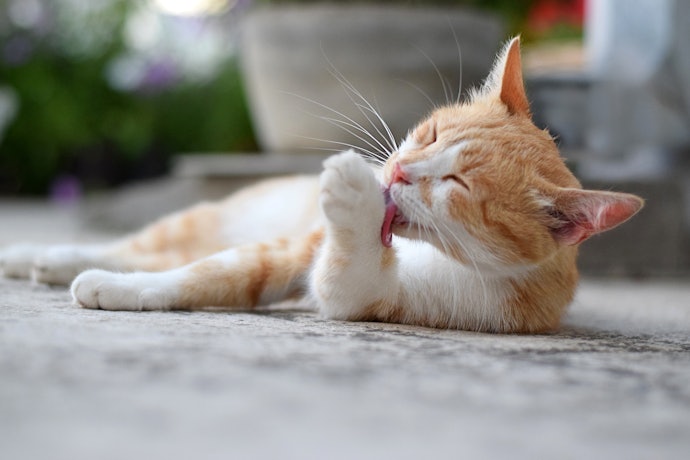 Compared to human skin, a cat's skin is thinner, more acidic, and more sensitive. It's prone to dryness as well, so go for a shampoo with a pH-balanced formula. It doesn't strip your cat's coat and skin of its natural oil and prevents moisture loss, too.
An imbalance in pH levels might lead to skin irritation as well. As a result, choosing a pH-balanced shampoo will help your cat stay healthy and prevent potential diseases. Also, keep in mind that feline skin is more alkaline than canine skin. So don't use a dog's shampoo for your cat unless it's labeled as suitable for cats.
Make Sure the Shampoo is Kitten-Safe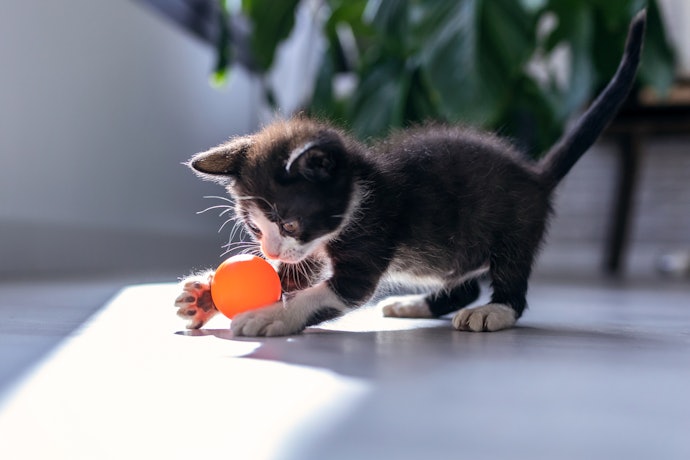 The skin of a kitten is more sensitive than that of an adult cat. Therefore, they will need a shampoo with a gentle formula. Some shampoos might contain strong cleansing agents that aren't suitable for kittens. So check the product's description and ensure the shampoo is suitable for kittens.
The active ingredients in medicated shampoos can be quite harsh on the delicate skin of your kitten, too. So, double-check with your vet before purchasing a medicated shampoo.
More Fantastic Products for Your Cats
Cats are fickle in nature, and there is no single way to keep them entertained. If you're in search of ways to make your cat happy, check out our product guides!
>> Top 10 Best Sisal Scratching Posts
Picking a shampoo for your cat isn't an easy task. You have to think about your cat's skin and choose a suitable formula. To make sure that a product truly works for your cat, we also suggest consulting with your vet before purchasing!