Sub: Top 10 Best Cat Beds To Buy Online (Pet Magasin, PetFusion, Kerbl)
Cats do a lot of sleeping. Is your bed, your couch, your carpet, and all the clothing you own covered in cat fur? How about encouraging them to sleep in their own special place instead? If you find the right beds and put them in the right place in your home, your cat will use them and you'll both be happy!
We searched online to find the best cat beds to suit any season, style, and feline. Check out our top 10 list and buying guide to help you choose the best cat bed for your furbaby!
Top 10 Best Cat Beds to Buy Online
Here are the best cat beds we could find! We considered style, season, and care requirements, and looked for features that will help make it your cat's new favorite spot.
1/ Pet Magasin –

4-Way Self Warming Cat Bed

$37.34
| | |
| --- | --- |
| Size | 22 x 17 x 17 inches |
| Materials | Faux-fur lining and trim; microfiber outer shell; padding: fleece and foam |
| Care instructions | Hand wash, tumble dry |
| Features | Self-warming by cat's body heat |
2/ K&H Pet Products –

EZ Mount Penthouse

$45.99
| | |
| --- | --- |
| Size | 19 x 23 x 9.5 inches |
| Materials | Removable microfleece pad |
| Care instructions | Microfleece pad: machine wash, line dry; exterior: wipe with damp cloth |
| Features | Holds up to 60 pounds |
3/ PetFusion –

Jumbo Cat Scratcher Lounge

$79.95
| | |
| --- | --- |
| Size | 39 x 11 x 14.3 inches |
| Materials | Recycled cardboard, non-toxic corn starch glue |
| Care instructions | N/A |
| Features | Comes with organic catnip |
4/ Kerbl –

Sleeping Nest

Other colors, materials available $26.19
| | |
| --- | --- |
| Size | 20-inch diameter |
| Materials | Cotton, steel frame |
| Care instructions | Washable in warm water |
| Features | Folds flat, removable cushion |
5/

Kitty's Mouse Skin Rug

$34.95
| | |
| --- | --- |
| Size | 21-inch diameter; 27 inches including head |
| Materials | Polyester and cotton materials with safety plastic eyes |
| Care instructions | Machine wash gentle cycle, cool temp, hang to dry |
| Features | Made in the USA |
6/

Purrfect Cat Box

$7.99
| | |
| --- | --- |
| Size | 14 x 10 x 5 inches |
| Materials | Cardboard with non-toxic inks |
| Care instructions | N/A |
| Features | Made in the USA |
7/ Amzdest –

Electric Heating Pad for Pets

Larger size available $21.99
| | |
| --- | --- |
| Size | 17.7 x 15.7 inches |
| Materials | Polyester cover |
| Care instructions | Remove and machine wash, line dry cover; wipe heating pad |
| Features | Waterproof; scratch-proof; chew-proof cord |
8/ Pidan –

Cat Nest Cooling Bed

$76.99
| | |
| --- | --- |
| Size | 16.5-inch diameter |
| Materials | Brushed aluminum |
| Care instructions | Wipe clean |
| Features | Non-slip pads |
9/ AmazonBasics –

Water-Resistant Pet Bed

Other sizes available $19.48
| | |
| --- | --- |
| Size | 21 x 18.5 x 8 inches |
| Materials | Oxford fabric |
| Care instructions | Wipe clean (may be machine washable) |
| Features | 1-year limited warranty |
10/ Felyong –

Unisex Pet Carrier Hoodie

Black, dark gray, light gray, or pink $23.99
| | |
| --- | --- |
| Size | S/M/L/XL/2XL/3XL/4XL |
| Materials | 65% polyester, 35% cotton |
| Care instructions | Hand wash, line dry |
| Features | Removable pouch liner can be washed seperately |
How to Choose a Bed For Your Cat – Buying Guide
Cats sleep a lot, but that doesn't mean they'll sleep anywhere. You should choose a bed that matches your style, but it's also important to consider other factors like the size of your cat, the season, the location you plan to put it, and how it can be cleaned.
Big Cats Need Sturdy Beds, but Not Necessarily Bigger Ones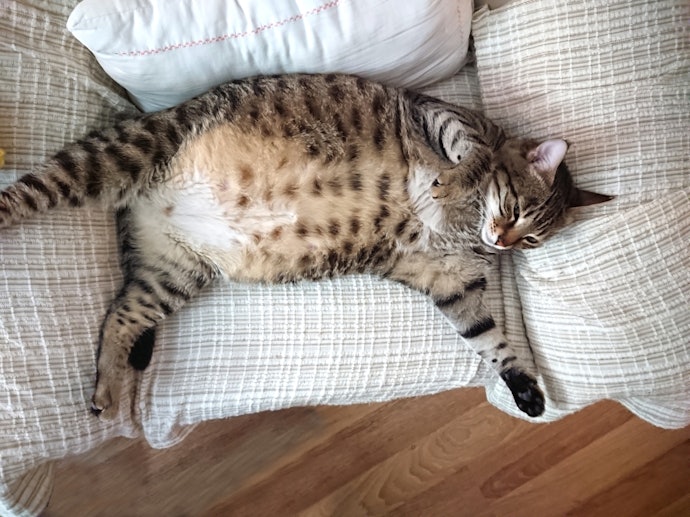 Male cats tend to be bigger than females, and some breeds like Maine Coons are naturally large, too. However, cats love to squeeze themselves into impossibly small spaces, so you don't always need a bigger bed for  bigger cat.
The one exception is hanging beds, like ones that stick onto a window using suction cups, or shelf beds that attach to the wall. It's very important to check the product description and quality and make sure you install it correctly to avoid injury, a big mess, and a terrified cat.
If you have multiple pets, you may also want some big beds so they can snuggle up together!
Cats Love Warm Beds, but They Can Also Overheat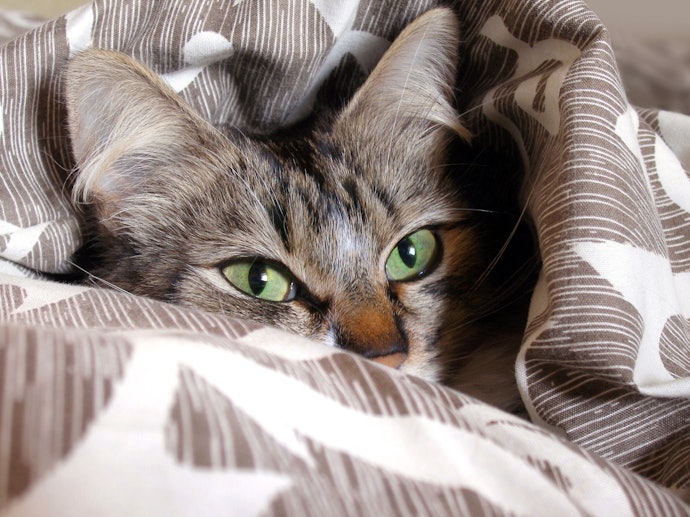 Even in hot summer weather, you may find your cat sleeping in a sunny window or under a blanket. They can still get too hot, though, especially long-haired cats. In the winter, cats seek out heaters and may burrow in your bed. Hairless breeds like Sphinxes and older cats will need special consideration to keep them warm and toasty.
Provide Open Beds for Summer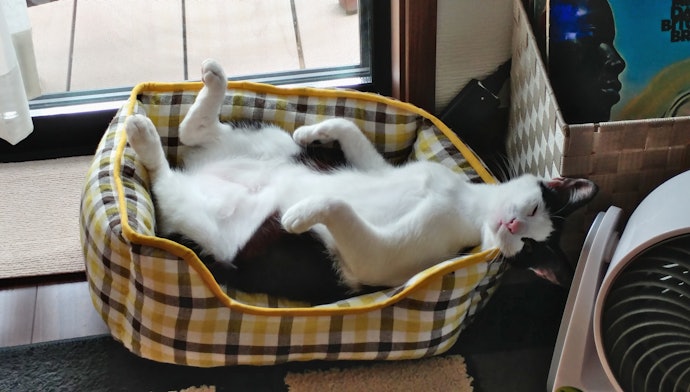 Cats will probably shy away from your air conditioner or fan's blowing air; it's just too cold for most. However, they can get too hot in a bed that doesn't allow air circulation and traps body heat.
Give your cat open beds without a cover. Look for less fluffy materials, like canvas or cardboard. Cool pads and aluminum beds are great, but not all cats take to them. You can also try putting some ice packs near your cat's favorite spot just to keep the ambient air temperature a bit cooler.
Make a Cozy Nest for Winter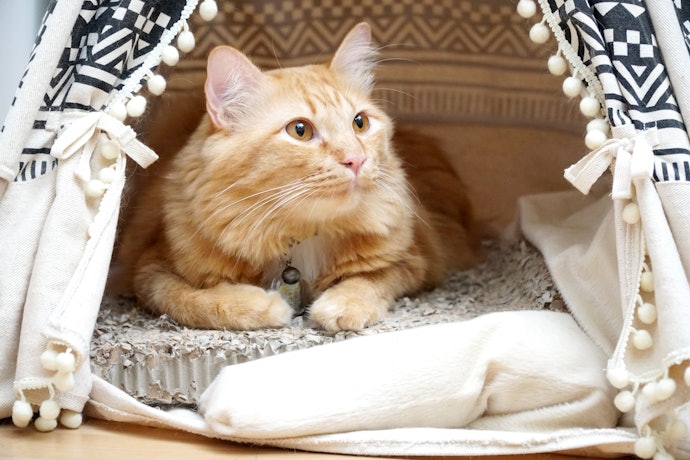 In winter you should provide beds that can trap body heat, like tents, cat caves, or sleeping bags. Choose fluffier materials such as fake fur, wool, and fleece, and place beds near heat sources (but far enough away that there's no risk of fire!)
Heating pads are available for pets too. Don't use one designed for humans, and make sure it has safety features to prevent burns or electric shock from chewing or getting wet. Microwaveable pads are an even safer choice.
Choose a Location Both You and Your Cat Can Agree on
You can always move beds based on the season, and if a bed isn't getting used, you can try different spots. But here are some basic rules for choosing the best location based on a cat's needs.
Cats Want a Safe Space Above All Else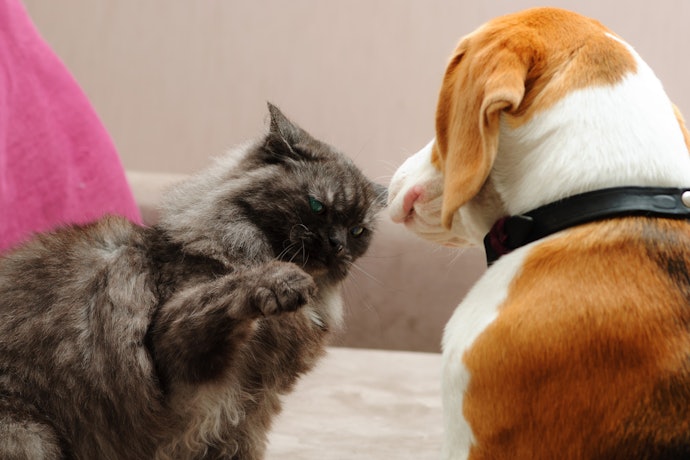 Cats are predators, but they are also small enough to be prey in the wild. So, they need to feel safe when they sleep. Definitely avoid high-traffic areas for cat beds (or food dishes and litter boxes for that matter.)
Not only will your cat feel stressed by constant commotion, but they may swipe at people's ankles or dogs who startle them as they pass by! If you have dogs or children who bother your cat, try elevated beds. The cat will feel safer because they're out of reach, and you can avoid self-defense aggression like biting and scratching.
Cats are Sensitive to Odors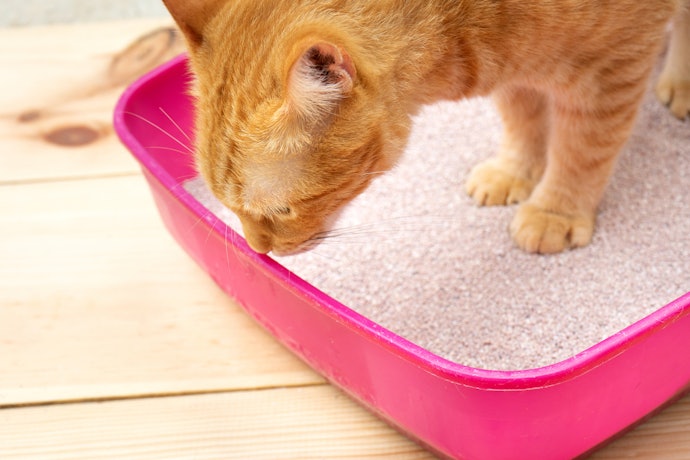 If you have plug-in air fresheners, your cat may not want to sleep next to them. Cats especially hate the smell of citrus and may avoid beds near strong scents.
Another place to avoid is near their litter box. Although some cats sleep in their litter, this is a sign of stress and fear and doesn't mean they're happy in there. I mean, would you want to sleep near the litter box?
Keep an Eye on the Temperature Near the Bed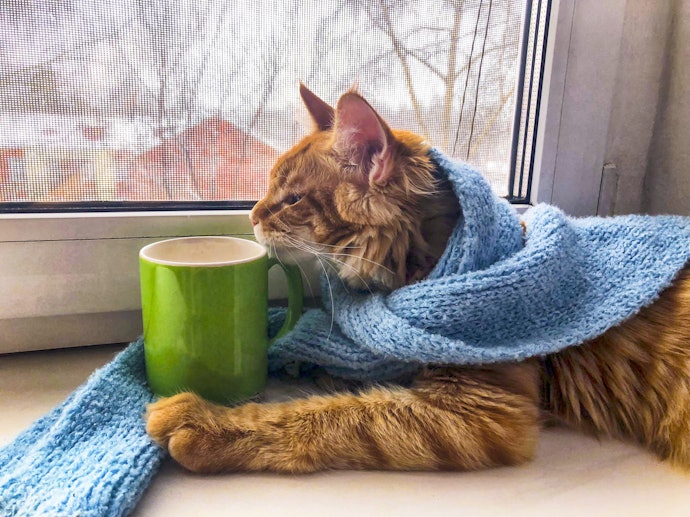 Cats don't like cold drafts in the winter any more than you do, so don't put their bed near a door or window. Unlike people, they also don't like cold blowing air in summer. Keep their beds out of the direct line of fans and air conditioners.
A cat will love to sleep near a heat source, but if it's an open fire or woodstove, be very careful to monitor that no embers hit their bed. Just use common sense to avoid flammable materials and keep enough space between your pet and a heater.
Don't Forget to Check Cleaning Requirements before You Buy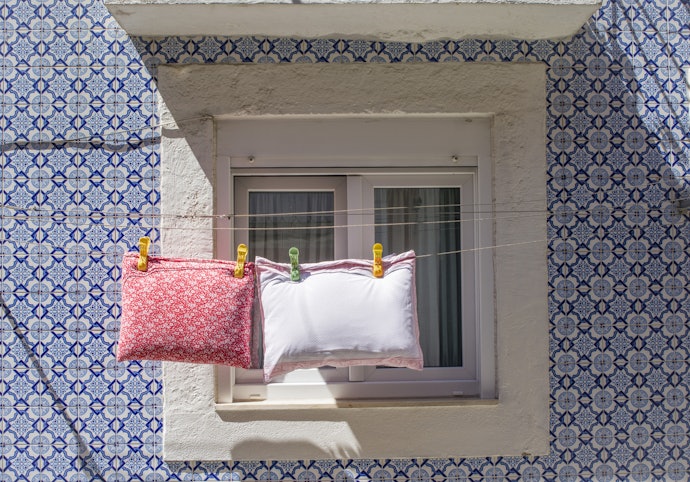 Cats are known to be very clean, but they will still need their bedding washed eventually. You should consider how you'll maintain the bed, and whether your cat has specific needs before purchase.
If your cat sometimes urinates on bedding, you'll need something that can go through the washing machine. Do you have a place to hang laundry, or do you want a bed that can go in the dryer? Some beds can only be spot cleaned. You can use a lint roller or vacuum to remove fur and dust.
If your cat has allergies, you may want to look for or avoid certain fabrics. Talk to your vet if your pet has medical conditions and should have a specific type of bed. Finally, it's better to air out a bed than to use linen sprays; some may be harmful to pets and they may not like the smell.
Is Your Pet Spoiled? Of Course Not! You Can Always Buy More Pet Goods!
Pets are family, but they can't do their own shopping (thankfully!) Here are some other great pet products you may need for your fuzzy children.
>> Top 10 Best Cat Toys to Buy Online
>> Top 10 Best Dog Beds for Large Dogs to Buy Online
>> Top 10 Best Cat Litters to Buy Online
Even if you already have a few cat beds, your little tiger will always appreciate new ones. Remember to choose a quiet, warm spot where your cat can watch the world. Keep beds clean and change locations and types as needed depending on the season. Your cat and your human furniture will thank you!
Author: Susan Lucier-Ogawa
Source: https://my-best.net/20334